What Doctors Are Saying
AS SEEN ON FOX NEWS*
The value of Provestra's® all-natural ingredients in increasing sexual desire, relieving menopausal symptoms, and making it easier to achieve orgasm is becoming widely recognized by the medical community.
While previously, doctors stuck to recommending over-the-counter pharmaceuticals, they're starting to embrace the benefits of all-natural herbal remedies like Provestra®.
Especially as more and more studies provide overwhelming evidence that these natural remedies get REAL results, without the harmful side effects that so frequently come with prescriptions!
Watch Dr Anna Lepeley's Review Of Provestra™
Anna Lepeley, PhD, CSCS, CISSN
An exercise and nutrition expert with an extensive background in exercise/nutrition biochemistry and the science behind libido-enhancing supplements/ ingredients. Anna holds a doctorate in Exercise Biochemistry research from Trident University and specializes in the physiological and biomechanical aspects behind libido and physical sexual performance, respectively, and their manipulation through diet, supplementation, exercise and overall lifestyle factors.
Anna also holds a Master's and Bachelor's degree in Exercise Physiology from Florida International University. Anna has been analyzing research and scientific literature examining the sexual arousal potential influenced by nutraceutical and dietary supplements for over eight years.
As a keynote speaker, Anna has presented at numerous conferences, dispelling the myths behind purported aphrodisiacs and ingredients of libido-enhancement products. Anna has also worked for libido-enhancing supplement companies, legitimizing the ingredients with scientific research and translating the mechanism behind ingredients' efficacy for general populations.
Restore Passion and Desire and Put the
Spark Back Into Sex!
Dr. Karen Vieira, PhD, MSM
Women interested in increased sex drive, sexual sensation, lubrication and pleasure can now turn to Provestra®, a safe and effective product designed to restore and optimize female sexual health. Provestra® is formulated with an array of proven ingredients that can restore passion and desire and put the spark back into sex.
Women's sexual health is a complicated subject, and many people falsely chalk up a lack of sexual desire to psychological issues, when this is most often not the case. In fact, properly balanced blood flow, optimized hormone and brain chemical release, and improved lubrication are all needed in order to restore female sexual health. Without any or all of these factors, women may fail to become "in the mood" and begin to feel inadequate. Male partners may feel unwanted. Negative feelings then ensue, but the ultimate solution is simply a restoration of sexual health.
Rather than suffering through the negative effects of absent sexual desire, women can begin to experience the best sex of their lives with the help of Provestra®. Each ingredient serves its own unique purpose. Damiana has been proven to be a potent aphrodisiac and has been used to restore female libido for many years. Kudzu contains phytoestrogens and balances estrogen levels. Ginseng is a circulation enhancer and may optimize male hormones that play a significant role in female sexual desire. Indole 3 Carbinol (I3C) optimizes estrogen levels and reduces unhealthy estrogen compounds. Several other ingredients have additional benefits that add to the full effect of the formula.
Not many solutions exist for optimizing female sexual health, but Provestra® is the real deal. I recommend Provestra® for any women interested in enhanced sexual desire, improved lubrication, increased pleasure and multiple orgasms.

On Select Orders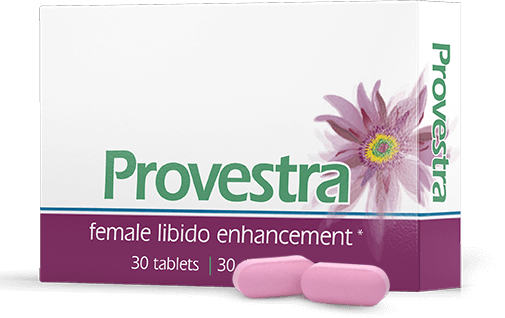 Free Shipping On Select Continental USA Orders.
67 Days Return No questions asked.
Secure Payments 100% secured payments.
24/7 Support Dedicated support.